Are temporary tattoos safe for the skin?
Absolutely! We use only non-toxic materials of the highest quality in our temporary tattoos, so they are completely safe for your skin.
What's in the ink?
Nano Ink. An organic ink that is incorporated into the formula our temporary tattoos. This technology allows us to create complex semi-permanent designs that are incredibly easy to apply!
Can you shower after application?
The tattoos are very light at first, which is because the Nano ink still needs to soak into the skin. This may take 36 hours for best results. Therefore, we recommend showering after tattoo placement only after 6 hours and try to avoid water as much as possible.
Can you get out into the sun?
Yes, with our temporary tattoos you can enjoy the sun! The ink soaks into your skin layer so you can just top up your tan.
When will I receive my order?
Woohoo, we understand you can't wait to receive your tattoos. your order will be processed and shipped the same business day. You will therefore receive the order within 1 to 2 business days!
I am a tattoo artist how can I get in touch with you for a collaboration of designs?
If you would like to work with us please contact info@tattoo-tijdelijk.nl. We will send more information to you and who knows, maybe your design will be sold on our website and in stores.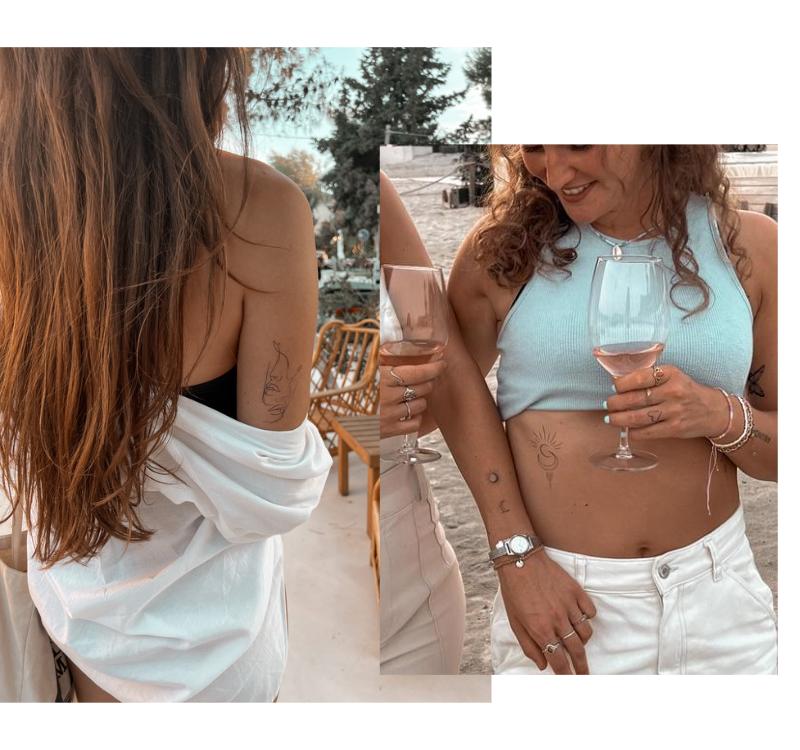 How do I remove my temporary tattoo?
Do you want to remove it earlier? Scrub your skin lightly with an exfoliant (such as warm salt water or a body scrub). Be careful with your skin – it may take a few tries to completely remove the ink.
Can I return my tattoos?
Yes, if you are not satisfied with the tattoos you can exchange them for free!
Can I also send my own design for a custom design?
Of course, we love to help our clients showcase their unique style! Our artists will talk with you about the design you like and guide you throughout the process.
What is the delivery time?
All of our orders are processed the same day. So if you order before 11:59 p.m., you can expect the tattoos within 1-2 days.
Are the tattoos safe and non-toxic?
Yes, our tattoos are safe and non-toxic. They meet FDA requirements.
See all designs